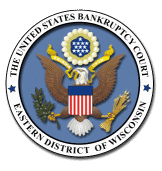 Welcome to the U.S. Bankruptcy Court for the Eastern District of Wisconsin
CM/ECF-BK V10.7.1.1
CM/ECF Maintenance
11/27/2023 07:45
CM/ECF may be unavailable for approximately 5 minutes between 6:00 a.m. and noon on Saturday, December 16, 2023, for system maintenance.
This is a restricted government website for official court business only. All activities of CM/ECF subscribers or users of this system for any purpose, and all access attempts, may be recorded and monitored by persons authorized by the federal judiciary for improper use, protection of system security, performance of maintenance and for appropriate management by the judiciary of its systems. By subscribing to CM/ECF, users expressly consent to system monitoring and to official access to data reviewed and created by them on the system. If evidence of unlawful activity is discovered, including unauthorized access attempts, it may be reported to law enforcement officials.
Court Conference Line Phone Numbers
Judge Halfenger: (888) 684-8852, access code: 7183566 #
Judge Hanan: (888) 808-6929, access code: 9122579 #
Judge Perhach: (888) 675-2535, access code: 9918878 #
Judge Blise: (888) 808-6929, access code: 5457889#
Teleconference lines may be monitored, and all court proceedings are recorded. Private recording or broadcasting of court proceedings is strictly prohibited.
Please review your hearing notices for the appropriate judge and conference line number.
Should you have any questions, please contact the clerk's office at (414) 297-3291 or (866) 582-3156.
Privacy Rule Reminder
To protect the rights of debtors and creditors, Bankruptcy Rule 9037 requires that certain personal data identifiers be modified or redacted from Bankruptcy Court case files. While there are limited exceptions, only the following should appear in filings made with the Bankruptcy Court:
only the last four digits of an individual's social security number or taxpayer identification number
only the last four digits of a financial account number
only the year of an individual's birth
only the initials of a minor.
Please note it is the responsibility of the attorney or the party making the filing with the court to redact the personal information.
The clerk will not review documents and remove personal information. Special rules apply for transcripts that are filed with the Court. See the Transcripts tab of this website for more information. Consult Bankruptcy Rule 9037 for exemptions from the redaction requirements. If you or another party in a case has filed personal identifiers, you may file a Motion to Restrict Viewing of that document to court staff only. Please contact us with questions about the Privacy Rule.
---
29April2023
Court Information